Warmth and comfort for war victims: a modern modular town was opened in Krasne
Finally, that day has come. Families of war-affected residents of Chernihiv Oblast are moving to cozy apartments in a new modular town in the village of Krasne. Each of these people has his own life story. But all of them have one thing in common – they were burned by the hell of war. The war is catching up with Nina Nalyvaiko's family for the second time. Back in 2014, they left Alchevsk in Donetsk region, and for a long time rented accommodation in Chernihiv. They dreamed of their house in the village.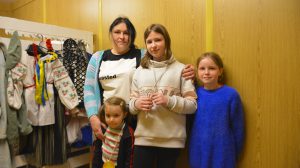 Nina Nalivayko, a resident of the modular town, Krasne village, Chernihiv region
My husband and I discussed that we have five children, decided to take the house for payment in the village Skorinets. And it's the second time we don't have a house. And we are very lucky to participate in this program. There is simply nowhere for us to live, we moved to Vinnytsia during the war. But you know what the housing situation is like there, we paid 10,000 per month for an apartment.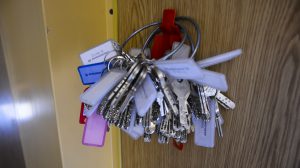 Now the Nalyvaiko family has a roof over their heads. On a warm spring morning, well-wishers, without whom this project would not have been possible, met at the opening of the modular town. Entrepreneur from Switzerland Andreas Saitz says that he learned about the horrors of the war in Ukraine from the media. He immediately decided to help Ukrainians who suffered from aggression. Good friends in Ukraine began to help, but the matter turned out to be not so easy.
Andreas Seitz, initiator of the modular town construction project, entrepreneur, Switzerland
Our story began last August, when I started looking for like-minded people at home to help people in Ukraine. I was looking for entrepreneurs who would help provide the project with furniture, household appliances and dishes. Unfortunately, there were no takers. But this did not change my plans in any way, and I decided to implement the project on my own. Another problem is that our domestic carriers refused to deliver goods to Ukraine. The problem was solved in cooperation with the Embassy of Ukraine in Switzerland. They recommended a Polish-Ukrainian carrier, with the help of which we still managed to deliver all the planned cargo to Ukraine.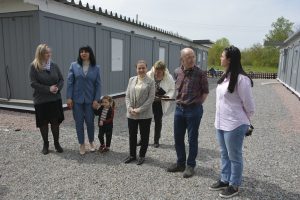 In Ukraine, the initiative of a Swiss benefactor was supported by the Baryshivska grain company. The enterprise, in particular, ensured the arrangement of the sewage system, water supply. "Helping people who suffered from the war is the direction to which we devote the lion's share of our strength today," says Yana Dnistryanska, director of the Baryshivska Grain Company Charity Foundation.
Yana Dnistryanska, Director of the Baryshivska Grain Company Charitable Foundation
We usually provide assistance to people affected by the war. Such decisions are adopted unanimously by the management of the fund and the company. These are both food sets and hygiene products. And we pay special attention that all people affected by the war receive this help quickly and on time.
Olena Shvydka, head of the Ivanovo community, Chernihiv region
Thank you from the Ivanovo community. Thank you for your help. We did not have enough funds for the full implementation of this project. Therefore, I am very grateful that our old friends and partners – Baryshivska grain company – have joined us.
Even the smallest rays of goodness are bright against the background of despair. And a sincere child's smile is worth all the jewels in the world. And we are very glad that we managed to give these people back hope that good always triumphs over darkness. That there are always people in this world who will support and help.